DILI (TOP) - The celebration of the birthday of the former Commander in Chief of FALINTIL Kay Rala Xanana Gusmão, 74 years old, was filled with tears as he recalled the beginning of the war struggle 40 years ago.
Xanana was born in Laleia, Manatuto on June 20, 1946 and was 74 years old on June 20, 2020. Before the thanksgiving mass began, in the morning the charismatic leader volunteered to clean up the area in the Motael church area in Dili.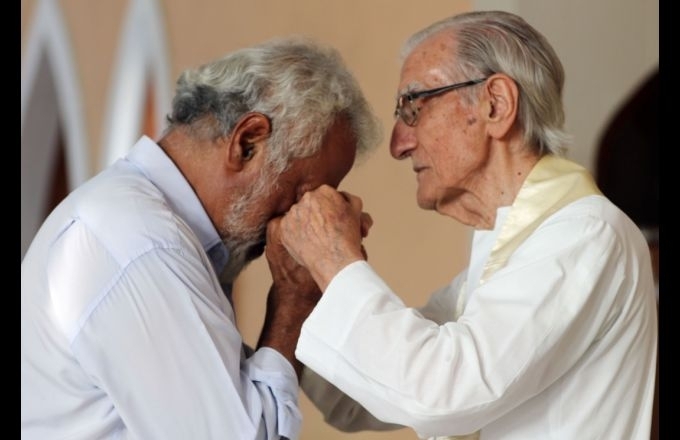 This cleaning activity includes sweeping and watering the flowers in front of the Motael church. Activities are assisted by the Bombeiro team. During this activity, the people who passed this public road immediately stopped and got off their vehicle and expressed their good luck and kissed Xanana's hand as a sign of respect for his birthday.
After cleaning at the Motael church, at 3 pm he attended a thanksgiving mass at the Balide parish church. There hundreds of people were already full in the church. This thanksgiving Mass was led by 14 Catholic priests. This thanksgiving Mass also not only occurred in the Balide parish, but also occurred in several parishes such as in Maubise, Ainaro and also in the Maliana Diocese, which was led directly by the Bishop of Maliana Diocese, Dom Norberto do Amaral.
"With respect I am grateful to all the spirit of solidarity of prayer to me with this mass, making me recall in 1980 in Ostico, Baukau we opened a unit to open the war began in the south," Xanana conveyed this with tears falling rolling in the altar the Balide parish, Dili, Saturday 20 June 2020.
Xanana is grateful to all who participated in his thanksgiving mass for continuing to strengthen unity, especially seeking to make peace with all people in Timor-Leste.
"At a time like this we all seek to establish unity with love so that we can bring us more respectful life," Xanana explained while crying.
Xanana's oration made all those who took part in the church also cry even all the priests also cried.
After giving speeches, Xanana tearfully went up to the pastor's table and shook hands with pastors José Figuera, José Martins, Domingos Maubere and others. Xanana thanked and thanked the Catholic priests who had always provided moral and spiritual support since they were still leading FALINTIL troops to fight against TNI troops in the bush