HUMBOE (TOP) – The situations in Timor-Leste in the 90s were heating up and it was impossible for a FALINTIL commander to ride a motorbike from Ermera to Dili because almost all corners of the road were filled with Indonesian civilian and military intelligence, but the Commander in Chief of FALINTIL Kay Rala Xanana Gusmão had escaped and succeeded.
In 29 years ago before the Indonesian military captured Xanana, he had been hiding in a small house in the village of Nuntali, Humboe tribe, Ermera district.
The former FALINTIL commander explained that in 1991 he traveled from Ponta Leste (Lautem) to Vikeke, Baukau, Manatuto, Ainaro and arrived at Ermera.
In Ermera accroding to Xanana, he hid in a small house in the village of Nuntali, Humboe tribe, Ermera district. The owner of this house is a catechist by the code name Airmano Raikutun and his wife named Halima. Xanana and his five bodyguards stayed in this house for one month.
He added that during his stay in this house, he always went in and out of the forest and traveled to Dili, but then his presence had been detected by Indonesian military intelligence, Xanana decided to move his hiding place again. He moved from the village of Nuntali to Dili on a motorcycle.
"Therefore there is one person named Peking, he is short. He came with his motorcycle to take me home to Dili. When he arrived in Dili when he saw the militant he ran slowly and after passing fast, "Xanana explained his story to reporters in the village of Nuntali, Ermera Sunday, June 14, 2020.
The Timor-Leste independence hero explained that in the 1990s the situation was still very difficult where the Indonesian government increasingly added military personnel in all corners of Timor-Leste with the aim to kill all the fighters both in the city and in the forest.
The history of Xanana hiding in Nuntali because of the help of a Catholic priest, the late Mario Belo. Xanana knew Father Mario Belo since he was at school together in Catholic seminary in the 60s. Father Mario Belo took Xanana to Ermera to build and strengthening the clandestine network to establish a FALINTIL headquarters there because he said that since 1978, all FALINTIL headquarters had been toppled but in Ermera there were still many FALINTIL commanders and their troops.
At that time, Xanana along with other members began organizing the war only to reach Ainaro, and at the same time almost everyone had come down from the mountains to bow to the Indonesian militarists, but in Ermera there were still many FALINTIL troops, and in Likisa there were also still commander Maucaro 305 and Samba 9. From that moment on, Xanana began to make contact with members of FALINTIL in the region with the late Nino Conis Santana.
Xanana said he would never forget some of his hiding places during the national resistance.
A modest house is almost 29 years old, now the host still keeps the facilities that Xanana used at that time like a typewriter, his bed was still intact and other facilities. This house is also still involved modestly, especially the room Xanana used at that time until now still remains.
"Actually the resistance museum must document this place," Xanana asked.
Xanana, who was a political prisoner for 7 years in Cipinang prison, Indonesia, explained that the first objective when he arrived in Ermera was to look for surviving members such as OJECTIL coordinator Paulino Monteiro who was accompanied by the late Sera Key, the late Nino Conis Santana, Ernesto Fernandes "Dudu", Eduardo Barreto "Dusae" and others to continue the fight for total independence.
Xanana also hid in a place called Aiceu in the Raimerhei tribe near the commander's hideout Nino Conis Santana in Mertutu.
In this place to establish connections with the community to provide food assistance to the FALINTIL who still survive in the forest to expand the resistance area to the Bobonaro Zone, Atsabe, Kailaku to Suai.
After Xanana went into hiding again in Fatumeta, he made contact with the deceased commander David Alex Daitula and Taur Matan Ruak to request assistance from those in Ermera.
After telling his story, Xanana hugged host Armanda Araújo Arranhado "Halima" with tears in his eyes and thanked her for being willing to hide him at that time.
"You are also participate in this national resistance, I will not forget. You are very brave to hide me in this house. Today we are with many people who shout that they are heroes but they are the ones who save me. They are not proud, do not demand much, you are very brave to give security to me, give me food every day. Next year if I have time I will celebrate my birthday at this house, "Xanana promised Halima with tears streaming down his cheeks.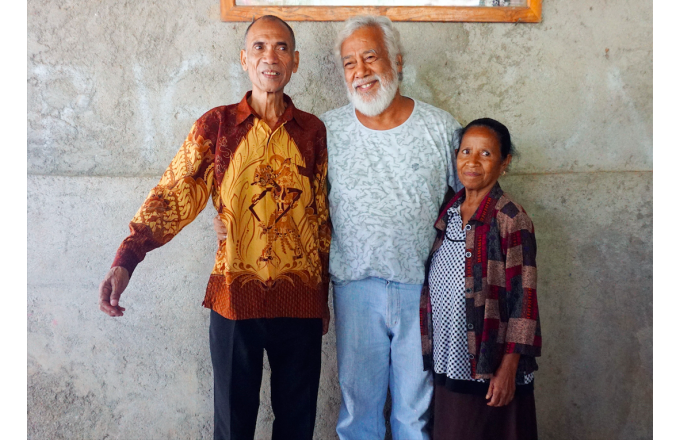 At the same time, veteran Luis António Salsinha "Airmano Raikutun" with his wife Armanda Araújo Arranhado "Hallima" considered Xanana's visit to his hideout 29 years ago as a blessing because of this small room, this small house is one of history in the process of national struggle to achieve national independence.
Halima stated, at first she was afraid when hiding Xanana in her home but always got advice from her husband that he had to protect Xanana in this place to carry out a national resistance strategy for the independence of the people of Timor-Leste.
"When Xanana started writing letters with this typewriter we threw corn kernels at the top of the house to feed birds to make a scene so people don't hear the sound of typewriters," Halima explained.
She added that at that time, everyone did not dare to hide Xanana because if the Indonesian military knew they would kill them all.
"But we are very confident and confident that Xanana will survive in this place. My husband is a catechist working in a Catholic church with pastor Mario Belo. So, we always pray for God's help to protect us all ".